by michelle w. on March 21, 2013
What was your favorite book as a child? Did it influence the person you are now?
I have no early memories of being read to. My Mam worked nights as an auxiliary nurse and my Dad, to my knowledge has never read a book of literature in his life so far, so I was left to my own devices. No bedtime stories then, unless I was reading them to myself. We had books around the house though. Encyclopedias about everything in the world. Sports books too. Football mostly and some Boxing ones.
My Dad was a big football fan and we had match day programmes from various Manchester City games that I could delve into at will. This was my bedtime reading, hidden under the covers with a torch. Re-living great sporting moments achieved by OUR team. Mine and my Dad's and starting a narrative that would stay with me always.
Pictures were enough to start with though. Before I got onto words. Pictures like this one. This from a game entitled The Ballet On Ice. My Dad says it was the purest display of football he ever saw.
I was 5 years old in 1968 when my Dad came home from a trip to Newcastle to tell me that City were the champions of England. Another chapter in the unfolding story.
In 1969 we won the FA Cup.
1970 The European Cup Winners Cup.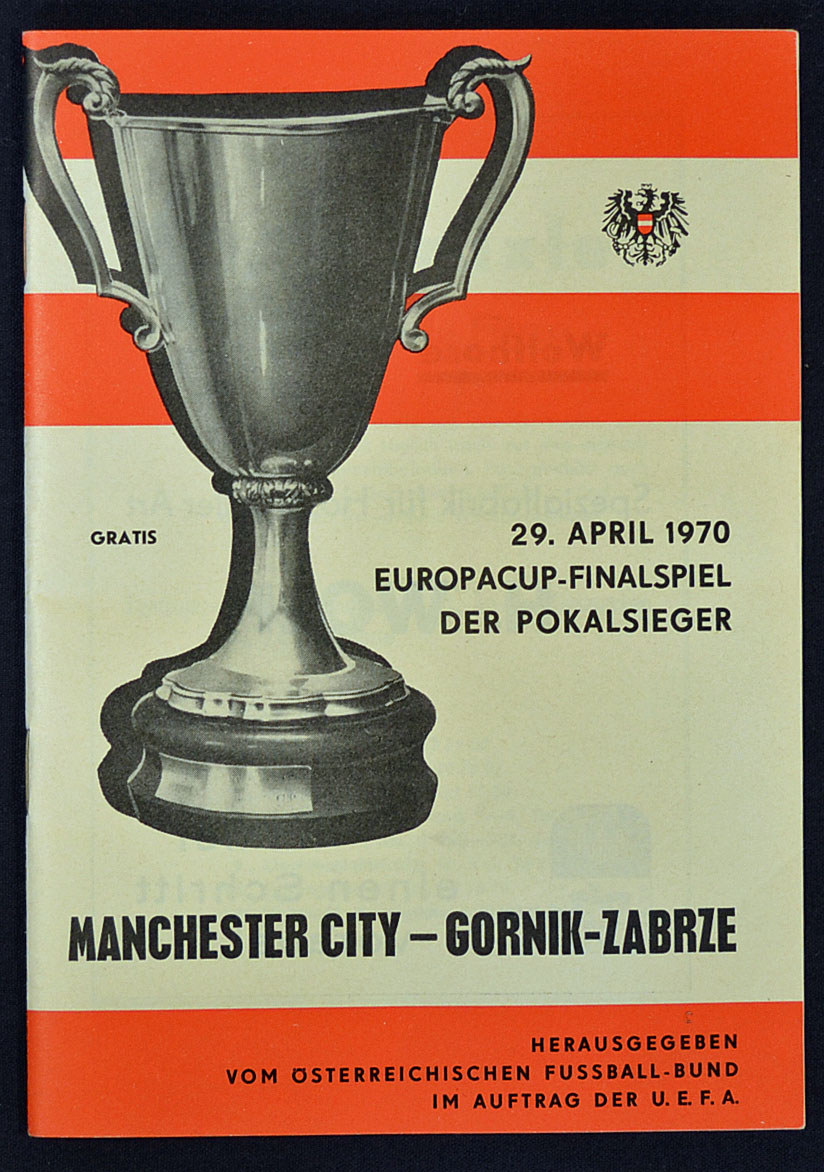 In 1971 the League Cup.
I can still smell the paper. These were not just programmes. These were my Dad's programmes. These were at the match. In his pocket. In the pub afterwards. They had an essence of the match about them. These were like gold to me. This was the era of the Joe Mercer and Malcolm Allison management team that created a team that knew how to play the game. The last team to win the title with 11 English players. A team with names that still conjure up whispers of greatness.
Sport was a big deal in my life growing up in Gorton in Manchester,the birthplace of Manchester City. I watched football all the time, read about it in Roy of the Rovers comics and Shoot magazine and every spare minute I had, I played it. Running around in the terraced streets of Manchester with my mates, roaring out our own match commentary as we kicked our tatty leather football all over the place and occasionally through someone's window. Some of my mates were Utd fans. They'd won The European Cup in 1968 and were always on about how much better they were than City. Over that period late 60's early 70's we won more games against Utd than we lost.
It was a great time to be a City fan.
By the mid 1970's I was a season ticket holder and standing in The Kippax, the largest stand in English football at the time, with my Dad. I loved it. My brother, who had been named after my Dad's favourite City player Neil Young, was by some cruel twist of irony, a Utd fan.
I started to add my own programmes to the collection. In 1974 I attended my first Wembley Final.
We'd beat Wolves 'no problem' my Dad said. We lost 2-1. I was inconsolable.
1976 and we were back at Wembley in the League Cup Final against Newcastle. This time we won 2-1.
We made another Wembley trip in 1981 to play in the FA Cup final against Tottenham Hotspur and I saw every game home and away leading to the final. It was a great football journey and I was convinced this was our year. It was the 100th Cup Final and one of the best ever. We drew the first game 1-1 and lost a replay 3-2. The following season 1981/2 was to be my last as a season ticket holder for a while.
I left Manchester in Sept 1982 to study at The University College Aberystwyth and it was a distance and cost combination that prevented me from keeping my season ticket. Dad kept his and I made do with Match of the Day on TV, regular updates from the old man and live games when visiting Manchester. In May 1983 I went to Maine Road to watch City play Luton Town in a game that they had to at least draw to stay in the top division. We lost 1-0 and for the first time since I supported City they were in Division 2. That was a long drive back to mid Wales.
By 1985 I was a Dad myself and married and working but now living in Cornwall many miles from my beloved City. I kept in touch by TV and phone and caught the odd game here and there but the demands of a young family became my priority and City's pull on my life took a different form. I always managed to find myself by a TV or Radio come 4.45pm on a Saturday to hear results and Sunday papers filled in any blanks. City came back up in 1985 and then went down again in 1987.
By 1989 I was back in the North West living and working near Ormskirk and now the father of two girls. Money was tight and football was an unaffordable luxury so I continued to follow the Blues on TV. City were back in Division 1.
In 1992 my work took me back to Manchester and I was able to catch a few games once more but still not in a position to commit to a season ticket. It was here that our 3rd and last child and our only son was born. In the same ward of the same hospital that I had been born in. Funny eh? 1992 also saw the inception of The Premier League and City were amongst the founding members. Working full time as a sales rep meant I was away a lot and we struggled to keep ourselves afloat financially at times. Football was still an unaffordable luxury and Manchester was turning out to be a bad move for us in many ways. After the third house robbery in 6 months, as well as having had 3 company cars stolen, we decided to move again late in 1994, the year that the last game for standing on the Kippax was held. I made that one.
We came to Hebden Bridge, a West Yorkshire town that was starting to see a quiet boom in it's own way. Work became the priority for me and my wife and raising the family. I caught some games but could not be there all the time. My Dad hadn't been to a game in a while having moved to live in St Ives, Cornwall but I managed to get us tickets for a game away at Blackburn. City were in danger of relegation once more and Blackburn were on their way to the title. We won 3-2 and played the champions elect off the park. Typical City. The following season we were relegated again staying in the now 1st Division for the whole of the next season. The following season May of 1998 the nightmare happened. We went down again into Division 2 (Old Division 3). I watched the final game in a pub in Yorkshire surrounded by people cheering City's demise.
The following year was a tough one for me personally. I was struggling with work. Long hours up and down the motorways were taking their toll as was heavy drinking. Most of 1999 I was in a kind of fog. Football for the first time in my life kinda lost it's meaning.I kept up with the teams progress and watched what I could on the telly but my heart wasn't in it. My life was sliding. For many City fans this was to become a defining season. I wasn't really giving it much thought at that time.
My eldest daughter was 9 now and had started to play football at school and was now asking me more and more about City and about football in general. City's season in Div 2 had come to a close and they were into the play off games. She was very keen to go watch a City game and so I managed to get a pair of tickets for the home leg of the game against Wigan.
City won and a Wembley Play Off Final awaited us against Gillingham.
Against all the odds and old friend came up with 4 tickets, him, me, my daughter and my Dad were all going to go to Wembley. I was happy for my Dad and for my Daughter but I had a moment of guilt to deal with. You don't deserve this. You weren't there when it mattered. I figured though that the hard core support would all be there and that the allocation was big enough to allow pretty much everyone that wanted to go a chance at a ticket. I'd been there. Just not this year.
What followed was the footballing equivalent of pure sports theatre.
Contrast. All the time City were struggling, Utd, our neighbours, were sweeping all before them winning the premier league on numerous occasions, FA Cups and just days before the play off final  the European Champions League.
City were 2-0 down with just minutes of the 90 to play against Gillingham. 1999 was turning into the worst year of my life. Along with that , my daughter was going to have the same kind of Wembley baptism that I had had.
A defeat.
Then this happened.
That is a moment I will never forget.
The game went to penalties, City won comfortably and were back into Division 1 and suddenly life didn't seem so bad. Dad, daughter, mate and I were all chuffed to say the least.
I quit my job later that year and started my own business and watched most of the next season on a shared season ticket with my mate and my daughter. City went back into the Premier League only to fall out again at the first attempt and then rise Phoenix like once more the next season where City ended their last year of football at Maine  Road in the Premier League and moved the next season to the newly built City of Manchester Stadium, which had been used for the Manchester hosting of the Commonwealth Games in 2002.
By 2008 my son had replaced my daughter by my side at the games, she having gone away to Uni herself and my middle daughter having never showed any interest in football.
City were about to hit the big time. Money came in from Abu Dhabi and City were now able to compete in the transfer market with the big clubs. Had a sleeping Giant been awakened? Suddenly just being in the Premier League wasn't enough. Now there were expectations. I enjoyed watching some of the best football I had ever seen City play over the next few seasons culminating in our first FA Cup Final since 1981, having knocked out Utd in the semi's. ( That was some day out for me and 'The Boy' as he has become affectionately known in our house. Blame the Simpsons)
FA Cup Final tickets are hard to come by. I had loyalty points a plenty and could pick mine up no problem but he didn't. "If you can't get a ticket I'm not going either" I told him. "We'll watch it together in the pub."
As it turned out family connections with an ex Chelsea pro got us tickets and we watched City win the FA Cup for the first time since 1969, beating Stoke 1-0.
At the start of the 2011/12 season my son gave up his season ticket. He was bound for OZ and a bit of traveling. In the end he never actually went for one reason and another and it turned out to be a bad year to stop watching.
Going into he last game of the season, City are level on points with UTD but have a superior goal difference. All we need to do is match their result and we will be Champions for the first time since 1968.
44 years.
My son travels to the game with me without a ticket. He just wants to be close by and goes to a pub close to the ground. Normal time has finished. Utd have won. City are losing 2-1 at home to QPR.
Then this happened.
Elation isn't the word. This surpassed even the Gillingham comeback. I felt a tap on my shoulder. My son had made it from the pub and somehow gotten into the ground. We watched together as City lifted the Premier League Trophy.
From bedtime reading to the pinnacle of English football through three generations. A core narrative throughout my life, it continues to influence me to this day.
What next?
Who knows?
One thing is certain.
*************************************************************************************************************************